Now and again you see a tiny house which is just perfect, and fits right into its environment. This house was designed and built by CountryPlans user rich2Vermont. He constructed the 10' x 16' loft cabin with the help of his family. It includes a loft bedroom, kitchenette, dining area, and amazing wraparound porch. The house is located on two acres of land in Topsham, VT. I'm not actually sure what I'm more in love with—the house or the land. This just looks like an incredibly tranquil and beautiful place to live!
Here is a photo of the finished cabin. As you can see, the tiny house was built in a traditional style which is familiar from many other larger old houses in the region. Don't you just love the dark red paint, white trim, and green roof? And that wraparound porch … it's an incredible way to add on some extra space. What a relaxing place to sit outdoors and enjoy some fresh air.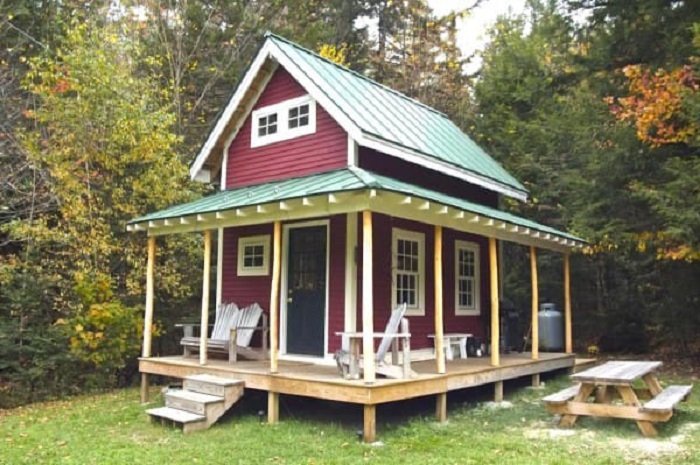 To get a feel for the location, here is a shot of the foundation. The pasture is surrounded by woodland, a babbling brook, and a road. It's so idyllic!

Before taking on this construction project, rich2Vermont had already successfully tried his hand at several smaller projects. Here is the lovely rustic bridge he built across the brook!